Who is God? Attributes of God
http://reasonandscience.heavenforum.org/t1481-who-is-god-attributes-of-god
http://www.josh.org/video-2/attributes-of-god/
http://www.gotquestions.org/attributes-God.html
http://preceptaustin.org/attributes_of_god.htm
1. Spaceless: Because it created space
2. Timeless: Because it created time
3. Immaterial: Because it created matter
4. Powerful: Because it created out of nothing
5. Intelligent: Because the universe was precisely designed
6. Personal: To convert a state of nothing into something
Bill Holbert:
Only the God of the Bible is described with the following characteristics:
• Supernatural in nature (as He exists outside of His creation)
• Incredibly powerful (to have created all that is known)
• Eternal (self-existent, as He exists outside of time and space)
• Omnipresent (He created space and is not limited by it)
• Timeless and changeless (He created time)
• Immaterial (because He transcends space)
• Personal (the impersonal can't create personality)
• Necessary (as everything else depends on Him)
• Infinite and singular (as you cannot have two infinities)
• Diverse yet has unity (as all multiplicity implies a prior singularity)
• Intelligent (supremely, to create everything)
• Purposeful (as He deliberately created everything)
• Moral (no moral law can exist without a lawgiver)
• Caring (or no moral laws would have been given)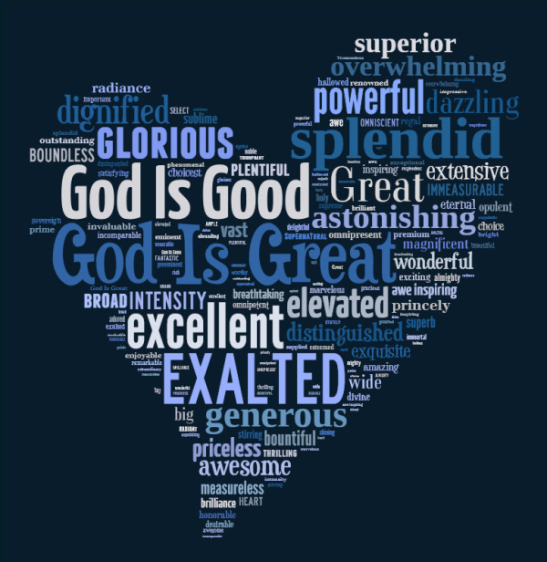 God is the supreme ( greatest ) being
personal
a trinity
spirit
Self-existent
Self-sufficient
Sovereign
Transcendent
Simple
Wise
Wrath
love
just
immutable
holy
righteous
merciful
unequaled
inscrutable
unfathomable
unsearchable
Immutable
Impartial
Incomprehensible
Infinite
Jealous
Longsuffering
The Infinite Creator.
Sometimes God will be alluded to as an Infinite Personal Existence
beyond the limitations of time and space...
OR
an Infinite Spiritual Existence beyond the limitations of time and
space
OR
an Infinite Conscious Existence beyond the limitations of time
and space.
but all of these actually defame God to a degree...and are somewhat
vain. They do not speak of God's incredible love for His children.
God exists. He is. He is revealed in the O.T. as "I AM" or YHWH
(known as the Tetragrammaton).
He is the beginning and the end. The Alpha and the Omega. From
everlasting to everlasting He is God.
He is a Heavenly Father - but NOT a finite existence. He is an
Infinite Heavenly Father Who is an Infinite Spiritual Existence without
body or mass. This is very important because "the old man in the
clouds" is a straw man.