Gene Regulatory Networks Controlling Body Plan Development 
1 
http://reasonandscience.heavenforum.org/t2318-gene-regulatory-networks-controlling-body-plan-development
EVOLUTIONARY BIOSCIENCE AS REGULATORY SYSTEMS BIOLOGY
1
Never in the modern history of evolutionary bioscience have such essentially different ideas about how to understand evolution of the animal body plan been simultaneously current.
The first is the classic neo-Darwinian concept that evolution of animal morphology occurs by means of small continuous changes in primary protein sequence which in general require homozygosity to effect phenotype. 

The second paradigm holds that evolution at all levels can be illuminated by detailed analysis of 
cis
-regulatory changes in genes that are direct targets of sequence level selection, in that they control variation of immediate adaptive significance. 

An entirely different way of thinking is that the evolution of animal body plans is a system level property of the developmental gene regulatory networks (dGRNs) which control ontogeny of the body plan.

Just as development is a system property of the regulatory genome, causal explanation of evolutionary change in developmental process must be considered at a system level. 

Never in the modern history of evolutionary bioscience have such essentially different ideas about how to understand evolution of the animal body plan been simultaneously current.The first is the classic neo-Darwinian concept that evolution of animal morphology occurs by means of small continuous changes in primary protein sequence which in general require homozygosity to effect phenotype.The second paradigm holds that evolution at all levels can be illuminated by detailed analysis of cis-regulatory changes in genes that are direct targets of sequence level selection, in that they control variation of immediate adaptive significance.Both approaches often focus on changes at single gene loci, and both are framed within the concepts of population genetics. An entirely different way of thinking is that the evolution of animal body plans is a system level property of the developmental gene regulatory networks (dGRNs) which control ontogeny of the body plan. 

It follows that gross morphological novelty required dramatic alterations in dGRN architecture, always involving multiple regulatory genes, and typically affecting the deployment of whole network subcircuits.

Because dGRNs are deeply hierarchical, and it is the upper levels of these GRNs that control major morphological features in development, a question dealt with below in this essay arises: how can we think about selection in respect to dGRN organization?  

The answers lie in the architecture of dGRNs and the developmental logic they generate at the system level, far from micro-evolutionary mechanism. While adaptive evolutionary variation occurs constantly in modern animals at the periphery of dGRNs, the stability over geological epochs of the developmental properties that define the major attributes of their body plans requires special explanations rooted deep in the structure/function relations of dGRNs.
Neo-Darwinian evolution is uniformitarian in that it assumes that all process works the same way, so that evolution of enzymes or flower colors can be used as current proxies for study of evolution of the body plan. It erroneously assumes that change in protein coding sequence is the basic cause of change in developmental program; and it erroneously assumes that evolutionary change in body plan morphology occurs by a continuous process. All of these assumptions are basically counterfactual. This cannot be surprising, since the neo-Darwinian synthesis from which these ideas stem was a pre-molecular biology concoction focused on population genetics and adaptation natural history, neither of which have any direct mechanistic import for the genomic regulatory systems that drive embryonic development of the body plan.

Sequence level changes in cis-regulatory modules controlling expression of these genes are demonstrated to be the cause of these variations, and in general they operate by altering the response of the cis-regulatory module to the pleisiomorphic spatial landscape of regulatory states. Evolutionary change in a cis-regulatory module controlling downstream gene expression is of course far less pleiotropically dangerous to the whole system than if either the coding region of the gene had been mutated or if the upstream regulatory landscape had been altered (Prud'homme et al., 2007). 

[b]The arguments are that essentially all evolutionary changes in morphology are at root cis-regulatory, which is indeed basically true; and that intra-modular mechanisms of cis-regulatory evolution will operate on similar principles wherever it occurs, also true. But these assumptions do not suffice to support the uniformitarian conclusion about body plan evolution: when the properties of the gene regulatory networks that actually generate body plans and body parts are taken into account, it can be seen that many entirely new and different mechanistic factors come into play. The result is that just as the paleontological record of evolutionary change in animal morphology is the opposite of uniformitarian (see the paper of D. Erwin in this collection), so, for very good reasons that are embedded in their structure/function relations, are the mechanisms of dGRN evolution.
[/b]
This rather obvious argument gives rise to additional specific consequences, which taken together provide a new set of principles that apply to the mechanisms of body plan evolution (Britten and Davidson, 1971,Davidson and Erwin, 2006 and Peter and Davidson, in press). They are new in that none are specifically predicted by classical evolutionary theory.

No observations on single genes can ever illuminate the overall mechanisms of the development of the body plan or of body parts except at the minute and always partial, if not wholly illusory, level of the worm's eye view.

A distinguishing feature of dGRNs is their deep hierarchy, which essentially stems from the long sequence of successive spatial regulatory states required to be installed in building first the axial embryonic/larval body plan, and then constructing individual body parts 

 the universe of possible responses is vastly constrained by dGRN hierarchy at each level transition, inevitably resulting in what was classically termed "canalization" of the developmental process 

 For example, a frequently encountered type of subcircuit in upstream regions of dGRNs consists of two or three genes locked together by feedback inputs (Davidson, 2010). These feedback structures act to stabilize regulatory states, and there is a high penalty to change, in that interference with the dynamic expression of any one of the genes causes the collapse of expression of all, and the total loss from the system of their contributions to the regulatory state.

the development of an embryo is extremely canonical even though, as in sea urchins, the exact size of the egg, the temperature, or the amounts of many regulatory gene transcripts ( Materna et al., 2010) may vary considerably.

Whatever continuous variation occurs at individual cis-regulatory sequences, the dGRN circuit output preserves its Boolean morphogenetic character.

Therefore the action of selection differs across dGRN structure. Selection does not operate to produce continuous adaptive change except at the dGRN periphery. 

the system level output is very impervious to change, except for catastrophic loss of the body part or loss of viability altogether. As long realized and much discussed in a non-mechanistic way in advance of actual knowledge of dGRN structure and function (for review see Gibson and Wagner, 2000), this imperviousness has something to do with whatever processes generate canalization and/or "buffering" of the genetic control system. We can now begin to understand canalization mechanistically in terms of dGRN hierarchy and subcircuit structure, as above, but in so far as "buffering" is taken to mean protection against "environmental fluctuations" as in many evolutionary mathematical models, it is irrelevant to animal embryonic processes, since in the main these depend not at all upon environmental inputs.

the fundamental role of upper level dGRNs is to set up in embryonic space a progressive series of regulatory states, which functionally define first the regions of the body with respect to its axes; then the location of the progenitor fields of the body parts; then the subparts of each body part.

In embryonic development the transcriptional processes mediated by dGRNs are intrinsically insensitive to varying cis-regulatory input levels. 
No subcircuit functions are redundant with another, and that is why there is always an observable consequence if a dGRN subcircuit is interrupted. Since these consequences are always catastrophically bad, flexibility is minimal, and since the subcircuits are all interconnected, the whole network partakes of the quality that there is only one way for things to work. And indeed the embryos of each species develop in only one way.
It is no surprise, from this point of view, that cell type re-specification by insertion of alternative differentiation drivers is changed only at the dGRN periphery, quite a different matter from altering body plan.
Darwins doubt, page 202:
Davidson notes that, once established, the complexity of the dGRNs as integrated circuits makes them stubbornly resistant to mutational change—a point he has stressed in nearly every publication on the topic over the past fifteen years. "In the sea urchin embryo," he points out, "disarming any one of these subcircuits produces some abnormality in expression."
In each generation of each animal species, the body plan is formed by the execution of an inherited genomic regulatory program for embryonic development. The basic control task is to determine transcriptional activity throughout embryonic time and space, and here ultimately lies causality in the developmental process. The genomic control apparatus for any given developmental episode consists of the specifically expressed genes that encode the transcription factors required to direct the events of that episode, most importantly including the cis-regulatory control regions of these genes. The cis-regulatory sequences combinatorially determine which regulatory inputs will affect the expression of each gene and what other genes it will affect; that is, they hard-wire the functional linkages among the regulatory genes, forming network subcircuits. The subcircuits perform biologically meaningful jobs, for example, acting as logic gates, interpreting signals, stabilizing given regulatory states, or establishing specific regulatory states in given cell lineages; here the term "regulatory state" means the total of active transcription factors in any given cell at any given time. In turn the subcircuits are "wired" together to constitute the gene regulatory network (GRN), the genomically encoded developmental control system.
GRNs are inherently hierarchical: the networks controlling each phase of development are assemblages of subcircuits, the subcircuits are assemblages of specific regulatory linkages among specific genes, and the linkages are individually determined by assemblages of cis-regulatory transcription factor target sites. But at the highest level of its organization, the developmental GRN is hierarchical in an additional and, as we discuss below, very important sense. Development progresses from phase to phase, and this fundamental phenomenon reflects the underlying sequential hierarchy of the GRN control system. In the earliest embryonic phases, the function of the developmental GRN is establishment of specific regulatory states in the spatial domains of the developing organism. In this way the design of the future body plan is mapped out in regional regulatory landscapes, which differentially endow the potentialities of the future parts. Lower down in the hierarchy, GRN apparatus continues regional regulatory specification on finer scales. Ultimately,
precisely confined regulatory states
determine how the differentiation and morphogenetic gene batteries at the terminal periphery of the GRN will be deployed.
The result of relevant change in GRN structure is derived change in GRN operation, compared to the immediately ancestral GRNs. This will cause changes in developmental process, and ultimately in the product of that process, the body plan (Britten and Davidson, 1971, Davidson and Erwin, 2006, Erwin and Davidson, 2009).
 the evolution of the body plan is fundamentally a system-level problem
to which GRN structure/function provides the most compelling direct access.
Evolution at cis-Regulatory Nodes
Because GRN topology is encoded directly in 
cis
-regulatory sequences at its nodes, evolutionary changes in these sequences have great potency to alter developmental GRN structure and function. However, there are many kinds of
cis
-regulatory changes that affect function in different ways, ranging from
loss of function, to quantitative change in function, to qualitative gain of function resulting in redeployment of gene expression.
The Hierarchical Organization of Developmental GRNs
Knowing that the basic events causing GRN evolution are 
cis
-regulatory alterations, particularly those resulting in qualitative additions to or subtractions from the developmental regulatory state, we can sharpen the question we are asking: how do the structural properties of GRNs affect the developmental consequences of such 
cis
-regulatory alterations?
The Consequences of Hierarchical GRN Structure
As discussed above, the GRNs controlling embryonic development of the body plan are intrinsically hierarchical, essentially because of the number of successive spatial regulatory states that must be installed in the course of pattern formation, cell-type specification, and differentiation.
Question:  has the development stage and sequence not have to be precisely and correctly programmed right from the beginning ? What, if there is a evolutionary mutation in the genome, and a new gene product is the result, but there is no regulation when to express it, and how to locate and to transport it to the right place ? Furthermore, it must be interface compatible , that is well match and function,  and being able to interact properly with the neighbouring parts or  cells. 
 The consequences of any given 
cis
-regulatory mutation will depend entirely on where in the GRN hierarchy the affected 
cis
-regulatory node lies. As Figure 2 shows, changes that occur in the 
cis
-regulatory control apparatus of a given differentiation gene could cause redeployment of that gene; changes in the 
cis
-regulatory system determining expression of a controller of the battery could cause redeployment of the whole battery; changes upstream of that could affect redeployment of whole regulatory states, or of many other features. The circuitry drawn in Figure 2 is of course arbitrary but its import is general.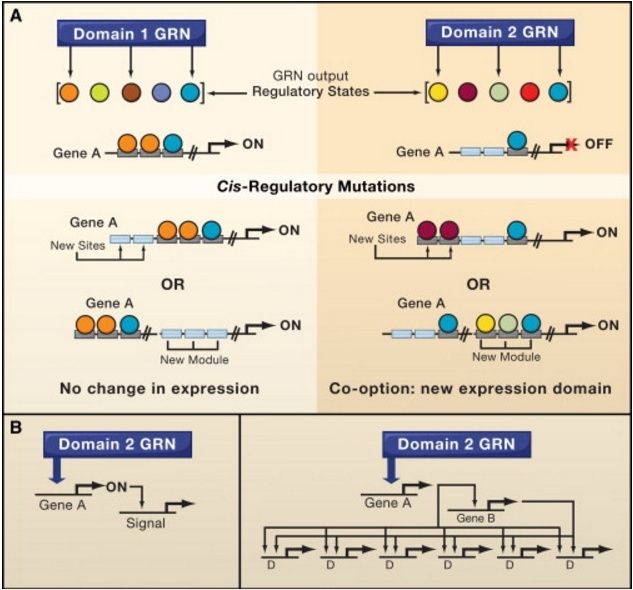 Figure 1
Regulatory Gene Co-option and Possible Consequences
The diagram shows cis-regulatory mutations that could result in co-optive change in the domain of expression of a regulatory gene and consequences at the level of gene regulatory networks (GRNs).(A) Co-option event: The gene regulatory networks operating in spatial Domains 1 and 2 produce different regulatory states (colored balls, representing diverse transcription factors). A cis-regulatory module of Gene A, a regulatory gene, has target sites for factors present in the Domain 1 regulatory state and so Gene A and its downstream targets are expressed in Domain 1, but not in Domain 2 where only one of the three sites can be occupied. Two alternative types of cis-regulatory mutations are portrayed: appearance of new sites within the module by internal nucleotide sequence change; and transposition into the DNA near the gene of a module from elsewhere in the genome bearing new sites. Although these gain-of-function changes do not affect the occupancy of the cis-regulatory sites of Gene A in Domain 1, the new sites allow Gene A to respond to the regulatory state of Domain 2, resulting in a co-optive change in expression so that Gene A is now active in Domain 2 (modified from Davidson and Erwin, 2010).(B) Gain-of-function changes in Domain 2 GRN architecture caused by co-option of Gene A: Gene A might control expression of an inductive signaling ligand, which could alter the fate/function of adjacent cells now receiving the signal from Domain 2 (left); Gene A might control expression of Gene B, another regulatory gene, and together with it cause expression of a differentiation (D) gene battery, which in consequence of the co-option is now expressed in Domain 2 (right).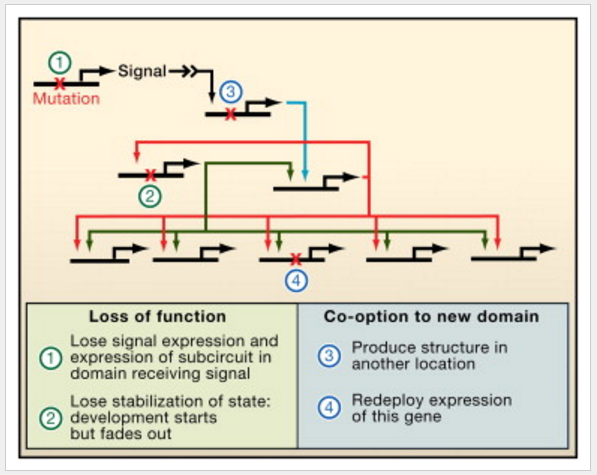 Figure 2
Evolutionary Consequences of cis-Regulatory MutationsFunctional evolutionary consequences of cis-regulatory mutations depend on their location in gene regulatory network (GRN) architecture. A GRN circuit encoding the control system of a differentiation gene battery (bottom tiers) activated in response to a signal from adjacent cells (top tier); linkages are in blue, red, and green. The double arrow indicates signal reception and transduction causing gene expression in the recipient cells. Note that the middle tier of circuitry consists of a dynamic feedback stabilization subcircuit. The numbered red "x" symbols denote mutational changes in the cis-regulatory modules controlling expression of these genes, keyed by number to the functional consequences listed in the box below. Loss-of-function mutations (1 and 2) are indicated in green, and co-optive gain-of-function mutations (3 and 4) resulting in expression of the affected gene in a new domain, as in Figure 1 A, are indicated in blue (modified from Erwin and Davidson, 2009).
 So in order to understand predictively the effect of a given 
cis
-regulatory change, the GRN architecture and the position of the mutation therein must be known. This may seem a demanding requirement, but from the point of view of understanding evolution mechanistically, it places a powerful lever in our hands. First, it should enable a rational interpretation of evolutionary differences in development between related animals in terms of GRN structure (we consider examples below); second, in principle it could enable predicted effects to be tested experimentally by inserting the 
cis
-regulatory change into a related form expressing the pleisiomorphic GRN, termed "synthetic exzperimental evolution" (Erwin and Davidson, 2009).
Another direct evolutionary consequence of GRN hierarchy has also been discussed (Davidson and Erwin, 2006, Davidson and Erwin, 2009), and this is the phenomenon of canalization. In developmental terms the establishment of a spatial regulatory state constrains subsequent processes: like a decrease in entropy, the number of possible regulatory states downstream is now decreased. If the regulatory state defines a progenitor field for a given organ, then all the subsequent stages in the development of that organ must take place within that domain.
As in development so in evolution, and thus a co-optive mutation leading to qualitative evolutionary reorganization at cis-regulatory nodes of an upper-level GRN subcircuit is much more likely to entail numerous deleterious problems downstream than if the change were to occur further down in the hierarchy. Therefore upper levels of GRN hierarchy are much less likely to change  than are more peripheral levels
, and this is the empirical mark of the classical canalization phenomenon.
Currently, no GRN is analyzed to a degree that we know its linkages and functions from its upstream to downstream peripheries, that is, from the beginning of the developmental process to the terminal differentiated state. We do know, however, that the GRN output is observable as individual gene expression patterns and, ultimately, as the developmental process. We can use these outputs to infer a framework within which to position individual regulatory subcircuits or evolutionary changes within the hierarchical GRN. To facilitate the discussion on GRN evolution we now define GRN parts according to the developmental functions they control and then go on to consider abstractly the impact of evolutionary changes occurring in each of these parts.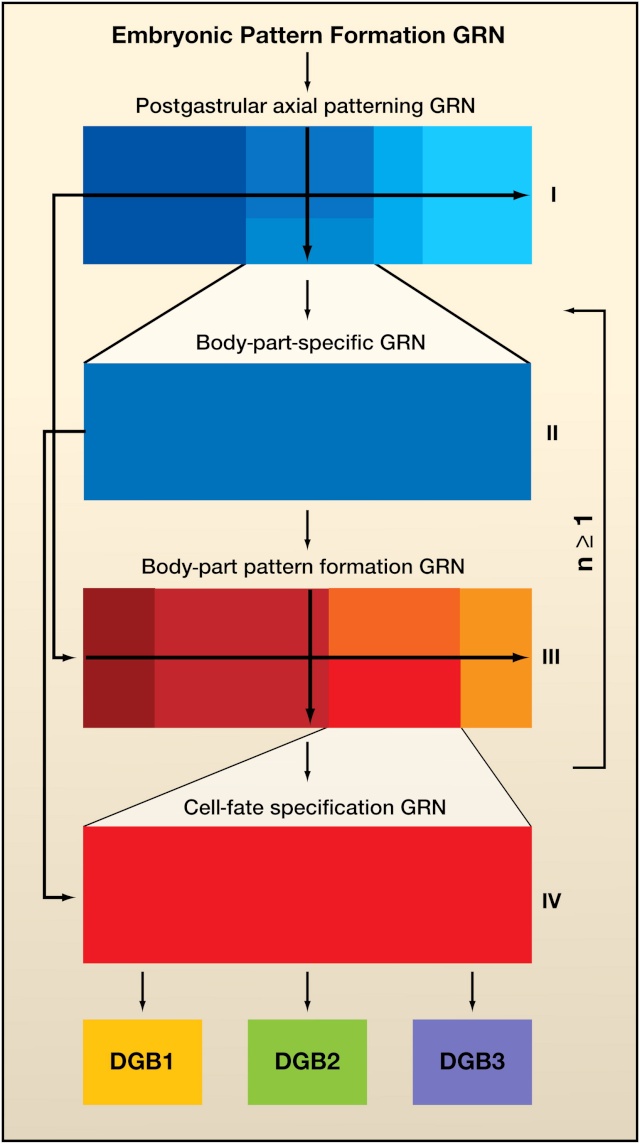 Figure 3
Hierarchy in Developmental Gene Regulatory Networks
The diagram shows a symbolic representation of hierarchy in developmental gene regulatory networks. The developmental process begins with the onset of embryogenesis at top. The outputs of the initial (i.e., pregastrular) embryonic gene regulatory networks (GRNs) are used after gastrulation to set up the GRNs, which establish regulatory states throughout the embryo, organized spatially with respect to the embryonic axes (axial organization and spatial subdivision are symbolized by orthogonal arrows and colored patterns). These spatial domains divide the embryonic space into broad domains occupied by pluripotent cell populations already specified as mesoderm, endoderm, future brain, future axial neuroectoderm, non-neural ectoderm, etc. The GRNs establishing this initial mosaic of postgastrular regulatory states, including the signaling interactions that help to establish domain boundaries, are symbolized as Box I.
The information of the GRN's to establish this initial mosaic of postgastrular regulatory states, and the signalling proteins and codification of the respective proteins has to be already setup and in place in order for the differentiation and development to be able to take place. Both are essential, and so irreducible. 
Within Box I domains the progenitor fields for the future adult body parts are later demarcated by signals plus local regulatory spatial information formulated in Box I, and given regulatory states are established in each such field by the earliest body-part-specific GRNs. Many such progenitor fields are thus set up during postgastrular embryogenesis, and a GRN defining one of these is here symbolized as Box II. Each progenitor field is then divided up into the subparts that will together constitute the body part, where the subdivisions are initially defined by installation of unique GRNs producing unique regulatory states. These "sub-body part" GRNs are symbolized by the oriented patterns of Box III. Because some body parts are ultimately of great complexity, the process of patterned subdivision and installation of successively more confined GRNs may be iterated, like a "do-loop," symbolized here by the upwards arrow from Box III to Box II, labeled n ≥ 1. Toward the termination of the developmental process in each region of the late embryo, the GRNs specifying the several individual cell types and deployed in each subpart of each body part, are symbolized here as Box IV. Postembryonic generation of specific cell types (from stem cells) is a Box IV process as well. At the bottom of the diagram are indicated several differentiation gene batteries ("DGB1, 2, 3"), the final outputs of each cell type. Morphogenetic functions are also programmed in each cell type (not shown). For discussion and background, see text and Davidson, 2001,Davidson, 2006.
As shown in Figure 3,
we can distinguish four causally connected developmental functions that are encoded by sections of the GRN represented by Boxes I–IV.
So what must be explained, is the origin of correct connection sequence that permits the correct temporal gene expression. Doest that sequence not constiture a irreducible complex system ? If the information of one step is faulty or inexistent, the whole cascade collapes.
The most upstream part of the GRN indicated in Box I controls postgastrular pattern formation. It is animated by pregastrular spatial and signaling inputs (maternal anisotropies, maternal factors, early interblastomere signals, all used as directional cues, and then by the outputs of the initial zygotic GRNs).
The functions of the GRNs set up in this phase of development, including their signaling interactions, are to establish broad domains that section the organism with respect to the major body axes.
The immediate output of the GRNs of Box I is to set upregulatory state domains within spatially defined areas of the organism. These domains, such as the neuraxis or mesodermal layers, constrain the position of future body parts and also now provide initial regulatory inputs that will be utilized in subsequent derivatives of their territories.
The fate patterns they produce are often broadly conserved within clades (the early postembryonic "phylotype").
In Box II, progenitor fields for specific body parts (for example, the heart progenitor field or the limb bud) are defined within these early domains. These are sets of cells each expressing the specific GRNs indicated at the level of Box II. The progenitor field then must be subdivided into regions that give rise to the future constituent pieces of the body part, each of which is foreshadowed by a new GRN (for example, the aorta or ventricle of the heart or the autopod of the limb). Within Box III thus lie the GRNs that control both the identity and the spatial boundaries of these subparts.
This patterning GRN thus implements a coordinate system within the progenitor domain that is crucial for morphology and function of the body part.
Both patterning GRNs (e.g., Box I and Box III) are oriented along the same axes, and the downstream body-part-specific patterning GRN therefore depends at least indirectly on the upper-level postgastrular patterning GRNs. Depending on the complexity of the body part, multiple rounds of spatial regulatory state subdivision and installation of further regional GRNs may be required. Thus, the progression from Box II- and Box III-type GRNs may be reiterated (backward arrow in Figure 3). Only following these patterning processes, the terminal cell-fate specification GRNs (Box IV) become activated in spatially restricted domains within the body part progenitor field. At the lower periphery of developmental GRNs are the differentiation gene batteries, that is, the protein-coding effector genes plus their immediate transcriptional regulatory drivers.
What kinds of subcircuit topologies are found at these different levels of GRN hierarchy? So far, a number of GRNs have been elaborated that indicate the recurrent use of subcircuits in given developmental contexts (Peter and Davidson, 2009). One such subcircuit, the positive feedback subcircuit, links two or more regulatory genes by multiple activating regulatory interactions and acts to stabilize regulatory states. This is necessary in body-part-specific GRNs (Box II) or cell-fate GRNs (Box IV), given that pattern formation processes usually occur only in a limited temporal window. Recurrent activating linkages keep the genes expressed even when the initial activating regulatory input fades. A positive intercellular feedback subcircuit can result in a "community effect" (Bolouri and Davidson, 2010), the stabilizing activation of similar regulatory states within a field of cells. Here a gene encoding an intercellular signaling ligand is expressed under the control of the same signal transduction system it activates. The pattern-forming GRNs of Box I and Box III in Figure 3, in contrast, operate largely by means of transient signal inputs as well as repressive exclusion functions that control spatial subdivision. Patterning processes are not concerned with stabilization or homogenization of regulatory states, and they contain few positive feedback loops. The biological function of individual subcircuit topologies predicts the probability of its occurrence at specific positions within the GRN hierarchy.
If one had to predict the GRN parts most likely modified in the evolution of body plans, a place to begin would be to define where in the developmental process and therefore in the GRN hierarchy differences occur.
Morphological differences between species of different phyla affect the basic body plan, the overall organization of the organism.
During development, the body plan is established mainly by the upstream embryonic patterning mechanisms and the individual body-part specification programs that they activate in given positions. Phylum-level morphological differences are therefore expected to occur in the GRNs underlying Boxes I and II.
Among classes within the same phylum, the position with respect to the body axes or the internal structures of individual body parts may differ.
Differences in the positions of body parts relative to each other could occur even when embryonic patterning GRNs and body-part specification GRNs are conserved, simply by rewiring the connections between these functions (such as the linkages connecting Box I and Box II; see also the discussion of hox gene functions below).
This could result in alterations in the positions of given body parts. Morphological differences within body parts are more likely to be caused by differences in the spatial assignment of cell-fate domains determined by the body-part patterning GRNs of Box III. Based on these arguments one would expect that mutations in regulatory linkages within the patterning functions are more likely to be the cause of morphological changes, whereas specification GRNs active within given cell types or body-part progenitor fields are more likely to be conserved.
Given the predicted prevalence of specific network topologies for given biological functions, there might be a direct correlation between regional network topology and rate of evolutionary change.
Regulatory linkages used for patterning embryos or body parts frequently rely on inductive signals that connect GRNs underlying specification in different domains and ensure orchestrated progression of development.
In organisms of different spatial geometry,
inductive signaling
relationships will differ, and thus, inductive signaling interactions are likely to show a higher rate of evolutionary change. Indeed they do, as discussed elsewhere (Davidson and Erwin, 2006, Erwin and Davidson, 2009). The high level of conservation of positive feedback subcircuits has been previously proposed in the Kernel theory of Davidson and Erwin (2006)). These Kernels consist of a few regulatory genes linked by recursive positive regulatory interactions, and they are usually used upstream in GRNs that control the specification of progenitor fields for particular body parts, and they are conserved at large evolutionary distances.
In summary,
evolution of GRNs to produce new developmental outcomes must involve new subcircuit deployments.
This places a premium on co-optive change at the switches, signals, and inter-subcircuit inputs that encode subcircuit deployment.
Evolution of new developmental GRN features must thus proceed to some extent as a process in which diverse subcircuits are combined, recombined, activated, and inactivated in given spatial domains of the embryo.
Evolution by Regulatory Changes in Single Genes
Though the jobs of development require the outputs of multigene subcircuits of given topologies, we see from the above that there are points of "flexibility" in developmental GRNs, where co-optive gain-of-function, or loss-of-function, regulatory changes may have large effects. By focusing on naturally occurring variations between closely related animals where visible evolutionary change has occurred recently, the most evolutionarily flexible aspects of the regulatory system are revealed. In the examples that follow, in which single genes are responsible for the changes observed, it has furthermore been possible to obtain experimental evidence for the evolutionary mechanism underlying the phenotypic variation in form.
Genomic Basis of Rapid Evolutionary Trait Loss
A canonical example, recently elaborated at the sequence level, and causally confirmed by experiment, is reduction of pelvic spines in stickleback fish. Following the end of the last Ice Age, marine stickleback fish were marooned in multiple lakes formed as the glaciers melted, and during the last 10,000–20,000 years independent populations of two different genera of these fish have repeatedly lost external pelvic spines. The exact selective advantages of pelvic reduction and spine loss are not defined, but as it has happened many times independently, there clearly are some (Shapiro et al., 2006 and references therein). Genetic complementation tests show that diverse isolates bear the same or overlapping genetic lesions, and this is so even in crosses of species from different genera displaying the same spine reduction phenotype.
The underlying genomic event turns out to be deletion of a cis-regulatory module that controls expression of the pitx1 regulatory gene in the pelvic buds during larval development (Chan et al., 2010).
Most significantly, when this 
cis
-regulatory module was cloned upstream of a sequence encoding the Pitx1 protein and introduced into reduced spine fish, it rescued the spineless phenotype. The 
cis
-regulatory module lies in an unstable, repetitive sequence-filled genomic region, possibly accounting for its repeated deletion (Chan et al., 2010). The 
pitx1
 gene is clearly involved in pattern formation functions upstream of pelvic girdle specification, and in spineless fish there is no 
pitx1
 expression in the pelvic buds even though the coding region of the gene is intact (Cole et al., 2003, Shapiro et al., 2006). In amniotes 
pitx1
 operates in the patterning system that organizes the subparts of the appendages developing from the hindlimb buds, and forced expression in forelimb buds transforms them into hindlimbs (Logan and Tabin, 1999, Szeto et al., 1999). Thus this gene operates upstream in a portion of the GRN, the function of which is to generate the spatial regulatory states that presage the parts of the amniote hindlimb, and also of the pelvis, which is rudimentary in mice deficient in 
pitx1
 (Szeto et al., 1999). Though 
pitx1
 could execute more downstream roles in pelvic skeletal formation as well, its expression prior to the terminal phases of pelvic skeletogenesis indicates that it also functions in a Box III body-part-specific patterning GRN in stickleback fish.
However, rapidly evolving, reduced, or regressive phenotypes can be due to gain-of-function as well as loss-of-function mutations. The Mexican cave fish 
Astyanax
 exists both in riverine surface waters and in various cave populations that became isolated , and the regressively evolved traits of the cave populations have been studied for over a half century. A recurrent change in cave 
Astyanax
 is degeneration of eyes during larval development. During embryogenesis of cavefish, the eyes initially develop similarly to those of surface conspecifics, including expression of many regulatory genes (Jeffery, 2005, Jeffery, 2009). But then many things go wrong in eye development including apoptotic degeneration of lens and retina. A cause is ectopic spatial expression of 
sonic hedgehog
 (
shh)
 from the normal medial interocular region across the top of the ocular fields in cave fish. As shown experimentally by introduction of 
shh
 mRNA in surface 
Astyanax
, excess Shh causes expression of transcription repressors (
vax1
 and 
pax2a
), which interfere with 
pax6
 expression and thus the downstream 
pax6
 ocular patterning subcircuit (Jeffery, 2009,Yamamoto et al., 2004, Baumer et al., 2002). Also, excess Shh indirectly promotes apoptosis in lens and retina. Though yet undefined at the sequence level, in cave 
Astyanax
, regulatory changes have evidently caused a spatial gain of function in 
shh
 transcription resulting in regression of the eyes.
The simplest cases of evolutionary trait loss are deleterious mutations in far downstream differentiation genes. Pigmentation is among the regressive traits in cave 
Astyanax
. Two pigmentation phenotypes have been shown to be due to mutations in the protein-coding sequences of receptors directly involved in pigmentation, 
oca2
 (Protas et al., 2006) and 
mc1r
 (Gross et al., 2009). However, in stickleback fishes where there is also loss of pigmentation in lacustrine forms,
cis
-regulatory changes rather than coding region mutations are responsible (Miller et al., 2007). Here the gene responsible encodes kit ligand (Steele factor) and this gene has pleiotropic effects, so that total loss of function would be severely deleterious. Loss of function in a single 
cis
-regulatory module, on the other hand, has specific effects that under certain conditions are adaptive. Because this is a general feature of 
cis
-regulatory versus coding sequence mutations, it predicts that evolutionary changes in any pleiotropically active gene, as are most regulatory genes, will generally target specific 
cis
-regulatory modules (as discussed, for example, by Chan et al., 2010, Miller et al., 2007, Prud'homme et al., 2006). Inverting this argument, we see a powerful evolutionary explanation for the modularity generally typical of the 
cis
-regulatory systems controlling expression of regulatory and signaling genes in animal genomes (Davidson, 2001, Davidson, 2006). GRN evolution by regulatory gain and loss of function of expression of these genes would be utterly impossible were these control systems not in general modular, given that almost all such genes function in multiple time-space compartments, and in multiple GRNs during development. Physical and functional modularity in the control systems of regulatory genes is thus among the fundamental characteristics of animal genomes that permit and, indeed, that produce evolution of development by GRN reorganization.
Morphological Variation due to Single-Gene Regulatory Changes
Whereas the foregoing concerns rapidly occurring evolutionary changes in single-gene functions that are of adaptive significance, we now face a conundrum. How do we extrapolate from recent evolutionary events to the much more ancient processes by which order- and class-level differences in body plan arose, let alone phylum-level differences?
Recent studies focusing on the adaptive evolution of external traits in and among Drosophila species have revealed processes of cis-regulatory sequence microevolution.
Such processes account for variation in pigmentation patterns due to regulatory changes affecting expression of the yellow differentiation gene
(Gompel et al., 2005, Rokas and Carroll, 2006) and the 
ebony
 differentiation gene (Rebeiz et al., 2009). Similarly, 
cis
-regulatory evolution in the 
shavenbaby
 (
ovo
) regulatory gene, which controls the differentiation and morphogenesis of trichomes (short hair-like surface appendages), determines where this gene is expressed, and thereby the minute pattern differences in trichome distribution distinguishing 
Drosophila
 species (McGregor et al., 2007). These studies afford multiple real examples of 
cis
-regulatory site addition, and quantitative as well as qualitative 
cis
-regulatory gain and loss of function due to internal DNA sequence change (see Table 1). They provide general and specific indication of the flexibility and changeability of 
cis
-regulatory modules in local evolution, at the level of function and deployment of differentiation gene batteries, the lowest level in the hierarchy of Figure 3.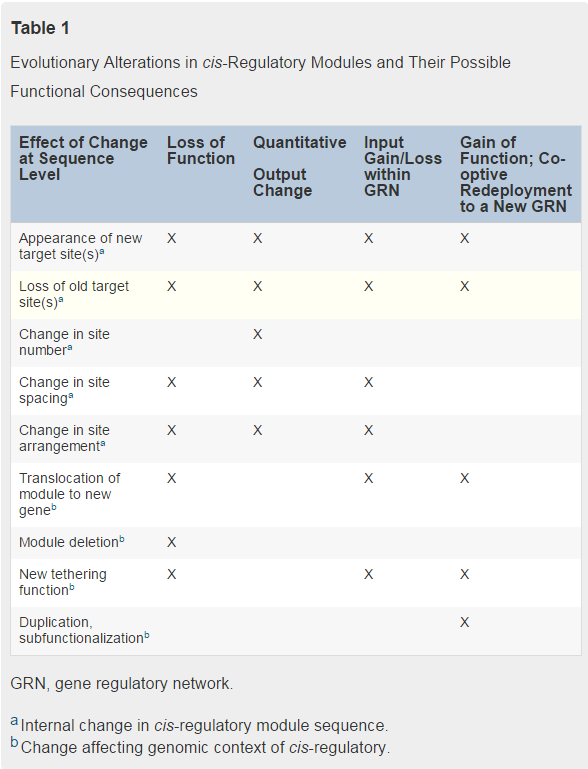 Mechanistic studies of intra- and interspecific evolutionary variation illuminate the next level up as well, that is, evolutionary changes (other than simple loss of function) in the Box III-type pattern formation GRNs that determine the morphological characteristics of given body parts.
The results have thus far often resolved into demonstration of alterations in the deployment of signal systems in the development of these parts; that is, the underlying evolutionary change is in the 
cis
-regulatory apparatus controlling time and place of inductive signaling, just as predicted earlier. The causal developmental mechanism underlying the adaptively diverse beak morphologies of Darwin's classic series of Galapagos finch species was solved in these terms by Abzhanov et al., 2006, Abzhanov et al., 2004). Species with heavy beaks displayed earlier and higher expression of bone morphogenetic protein 4 (BMP4) in pre-beak neural crest mesenchyme, and species with elongated, pointed beaks expressed Ca
2+
/calmodulin at higher levels, indicating that beak length depends on extent of Ca
2+
 signaling. Remarkably, experimental overexpression of BMP4 by retroviral gene transfer into developing frontonasal tissues of chicken embryos produces robust beaks, and experimental overexpression of the downstream mediator of Ca
2+
 signaling, CaMKII, produced elongated beaks, confirming the causality. To take another example, a recent study shows that short legs in dog breeds such as dachshunds and basset hounds is due to a retrogene encoding fibroblast growth factor 4 (FGF4), inserted and evidently controlled by 
cis
-regulatory elements carried in non-LTR transposons (Parker et al., 2009).
Changes in upstream patterning apparatus can account for differences in body plan at inter-ordinal to inter-class levels, and such changes are not found in comparing organisms that diverged only a few million or a few thousand years ago or less. For example, one of the characters distinguishing bats and rodents, which are of different mammalian orders and in fact belong to different super-orders, is the much longer relative length of the forearm skeleton in bats. A candidate regulatory gene known to affect limb skeletal elongation is 
prx1
 (
mhox
), and in bats this gene is upregulated after the early limb bud stage compared to mice (Cretekos et al., 2008). The (indirect) causality of this change was then demonstrated by inserting the bat 
prx1
 limb enhancer into the mouse gene, with the result that the forelimbs of the recipient mouse now develop with relatively longer dimensions. In an essentially similar case,
the tbx5 gene, deeply embedded in the vertebrate heart formation GRN (for review, Davidson, 2006),

turns out to be regulated differently during heart formation in reptiles than in birds and mammals

, a class-level difference.
Expression of this gene is confined to the left ventricle in the developing amniote heart but is expressed across the common ventricle in the three-chambered reptile heart (Koshiba-Takeuchi et al., 2009). When uniform 
tbx5
 expression is forced in the mouse heart, or left ventricle 
tbx5
expression is prevented, that is, if a reptilian 
tbx5
 spatial regulatory expression is imposed, the mouse develops a three-chambered heart lacking an interventricular septum. Understanding of developmental GRN structure tells us that these examples differ from the foregoing in that they imply the existence of Box III GRN subcircuits in which the targeted genes participate. In contrast, in the peripheral gene examples above, the phenotype is wholly encompassed by changes in a single 
cis
-regulatory system.
Hox Gene Functions in Upper-Level GRN Patterning Systems
Genes of the trans-bilaterian 
hox
 complexes have been the subject of a vast amount of phenomenological research, which has revealed the many and various effects on developmental morphology of 
hox
 gene knockouts or ectopic 
hox
 gene expression. The variety of effects precludes any simple interpretation of the functions of these genes in terms of developmental GRN structure, for the simple reason that they work at diverse levels. Studies of direct 
hox
 gene targets reveal both other regulatory genes and far downstream genes encoding proteins active in apoptosis, cell-cycle control, cell adhesion, cell polarity, noncanonical signaling, and cytoskeletal functions (Cobb and Duboule, 2005, Hueber and Lohmann, 2008, Pearson et al., 2005). However, 
Hox
 genes are most famous for their developmental effects on the placement and the internal organization of body parts. The most important evolutionary and developmental attributes of 
hox
gene complex function can be reduced to two statements: first, in organisms in which coherent 
hox
 complexes exist they are expressed in a vectorial or sequential fashion with respect to the coordinates of the body plan or the body part; and second, they can act as switches that allow (or activate) GRN patterning subcircuits in given locations of the body plan or body part, or alternately they prohibit (or repress) these subcircuits in given locations.
The genomic organization of 
hox
 gene clusters indicates that distinct mechanisms account for the locations in the body plan where individual 
hox 
genes are expressed in development. In 
Drosophila
 a plethora of 
cis
-regulatory modules control each aspect of expression of each gene. Particularly well-known at the 
cis
-regulatory level is the bithorax region (Ho et al., 2009, Maeda and Karch, 2009, Simon et al., 1990). Each specific 
hox
 gene enhancer responds to local upstream regulatory states that are the product of earlier developmental GRNs, just as in any other developmental process. Similarly, many very well-characterized 
cis
-regulatory modules that control very specific spatial and temporal aspects of anterior 
hox
 gene expression are known in mammals, and often conserved to fish (Tumpel et al., 2009). The prevalence of local 
cis
-regulatory hox gene control modules explains how these genes can function in animals that lack large 
hox
 gene clusters. It is interesting that 
hox
 genes are not required for embryonic development of organisms that utilize fixed cell lineages for specification (Davidson, 1990), for instance in 
C. elegans,
 which lacks both a coherent 
hox
 complex and many 
hox
 genes (Aboobaker and Blaxter, 2010); in sea urchins (Martinez et al., 1999); or in 
Ciona
, which also lacks a coherent 
hox
complex (Ikuta et al., 2010). However, in addition to control by local enhancers, another entirely different mechanism that speaks directly to both the evolutionary maintenance of the 
hox
 gene cluster(s) and the vectorial expression of 
hox
 genes relative to one another has come to light in mammals and other tetrapods.
Over the last decade, transcriptional control of the mouse 
hoxd
 complex has been extensively examined by deletions, rearrangements, and insertions of reporter transgenes, including ectopically positioned 
hox
 genes at various locations in the complex . To summarize very briefly, early expression in the tetrapod limb bud is controlled not only by local enhancers but also by distant regulatory regions located outside the 
hox
 gene clusters. One of these operates from the 3′ (anterior) end of the cluster and causes the progressive expression of first anterior and then middle 
hox
 genes in the limb bud region that will give rise to the forearm. Meanwhile the posterior hox genes are repressed by a counteracting locus control region operating from beyond the 5′ end of the complex in the anterior cells of the early limb bud, allowing expression of these genes only in the posterior limb bud cells. A second phase of 
hoxd
expression is controlled by other complex distant enhancers located 200 kb away from the 5′ end of the cluster, which are required to pattern the autopod region of the tetrapod limb where the digits form (Tarchini and Duboule, 2006). This "
global control region" (GCR)
is responsible for a graded expression of the five posterior
hox
 genes across the anterior/posterior (A/P) dimension of the autopod.
Global Control Regions and Regulatory Landscapes in Vertebrate Development and Evolution  
2 
The proper implementation of the genetic program controlling cell differentiation and, ultimately, metazoan development requires the highly coordinated actions of multiple genes.
Consequently, these genes need to be tightly regulated in both time and space, and with respect to their quantitative outputs.
Small changes in a single gene expression pattern can lead to severe morphological alterations, as exemplified by haplo-insufficiencies in many human syndromes
, ectopic gene expression in cancers , or even slight heterochronic variations (e.g., Juan and Ruddle, 2003; Zakany et al., 1997). Yet gene products rarely act alone, but usually interact with partners either to form large multiproteins complexes (e.g., Polycomb-group complexes, muscle contractile apparatus) or to be part of a sequential metabolic pathway (e.g., retinoic acid). Therefore, it is important that genes whose products are part of the same functional pathway are expressed at the same time and in the same cells.
The GCR probably had an ancient role in controlling colinear expression in the central nervous system, a basal axial organization function that in terms of our Figure 3 would reside somewhere in Box I;
part of the active GCR elements are conserved from fish to mammals.
However some limb-specific elements of the GCR likely evolved in tetrapods, particularly the autopod control device and its patterning GRN, which would make the autopod a novel evolutionary invention with respect to the fish antecedents (Gonzalez et al., 2007, Woltering and Duboule, 2010). More generally, it is an interesting speculation that distant 
hox
 complex control regions were superimposed during chordate evolution (they are absent from
Drosophila
), and control by local 
hox
 gene enhancers was the primal regulatory mode (Spitz et al., 2001). However, because the regulatory landscape to which the local enhancers must respond can be very different in different organisms, they themselves must have evolved in clade-specific ways.
Given these systems, deeply conserved and otherwise, by which 
hox
 gene expression is regionally controlled, we come to their mode of interaction with the GRNs that control development of specific body parts. Sometimes individual 
hox
genes act by participating, like any other regulatory genes in patterning GRNs, for example in early hindbrain specification, a Box I function.
Together with other important regulatory genes such as krox and Kreisler, the anterior group hoxa and hoxb genes establish recursively wired, extremely conserved, rhombomere-specific GRNs
(Tumpel et al., 2007, Tumpel et al., 2009). But more often they operate in another,  flexible way, such that change in their functions has been directly correlated, in many comparative observations, with  change in both the positioning and organization of body parts.
In many more cases than those mentioned here
the function of these regionally expressed genes is rather to provide a one-way switch that provides "go" or "no go" instruction to body-part-specific GRN patterning circuitry.
In evolution the deployment of these switches, and the linkages between them and the body-part-specific subcircuits, are far more flexible than is the internal structure of these subcircuits. 
Unless all forms were "sprung forth fully blown" like Athena from the head of Zeus,
the evolution of the diverse body plans of animals requires large-scale processes of change in ancestral developmental GRN architecture. 
Conservation
The hierarchical Linnean classification system we use, including modern corrections based on molecular phylogenetics, essentially arranges animal body plans on the basis of their evolutionarily shared and derived characters (avoiding convergent associations). Shared body plan characters of given clades ultimately imply conserved developmental regulatory circuitry (Davidson and Erwin, 2009). But other apparently older characters are shared over huge phylogenetic distances across cladistic boundaries, being represented in multiple bilaterian phyla and in diverse body plans. These are particular body parts, such as hearts, and the major domains of brains, and particular cell types, such as muscle and neurons.
Because of their very widespread distribution, some differentiation gene batteries are probably among the oldest features of modern developmental GRNs (Davidson, 2006, Davidson and Erwin, 2009). But just as a cell type is not the same thing as a body part, so a differentiation gene battery is not the same thing as a cell type. During evolution the identity of the effector genes can change radically, whereas the biological function of the cell type remains the same; and in addition, the cell type often has cell-biological or -morphological characteristics that are not encoded the same way as is activation of sets of effector genes. So we have to consider what GRN structures actually lie at the root of trans-phyletic cell-type conservation. A few examples may clarify this issue.
Comparative GRN analysis is beginning to reveal "kernels" (Davidson and Erwin, 2006), in which regulatory genes wired together in certain conserved linkages execute upstream regulatory functions in development of given body parts. These circuits are characterized by extensive feedback wiring, and where tested, interference with expression of any of their genes results in developmental catastrophe.  These features, and developmental canalization due to the upstream position of such kernels in the body-part GRN, explain their exceptional evolutionary conservation.
Examples include what may be a pan-bilaterian (i.e., from flies to mice) kernel for heart specification (Davidson, 2006) and an (at least) pan-echinoderm kernel underlying mesoderm specification in both sea urchin and sea star development (McCauley et al., 2010) (these lineages have not shared a common ancestor since the end of the Cambrian). Similarly, a fundamental Box II subcircuit may underlie mesoderm specification in vertebrate embryogenesis (Swiers et al., 2010). A recursively wired triple feedback circuit has been proposed as a kernel underlying the pluripotent state of endothelial/hematopoietic precursors that arise in vertebrate development (Pimanda et al., 2007). There are also many less coherent observations, not yet at the level of an explicit GRN, in which detailed patterning similarities plus some gene interaction data strongly suggest the existence of GRN kernels that yet await elucidation. One convincing example is the brain, where a large amount of work has illuminated striking similarities in both A/P and mediolateral patterns of regulatory gene expression as well as homologous gene interactions between 
Drosophila
 and mouse (Davidson, 2006,Denes et al., 2007, Lowe et al., 2003, Seibert and Urbach, 2010, Tessmar-Raible et al., 2007).
1) http://www.cell.com/cell/fulltext/S0092-8674(11)00131-0
2) http://bejerano.stanford.edu/readings/public/80_Function_GCRs.pdf


Last edited by Admin on Fri Jul 22, 2016 5:13 am; edited 7 times in total