Iron Uptake and Homeostasis in Cells
1
http://reasonandscience.heavenforum.org/t2443-iron-uptake-and-homeostasis-in-prokaryotic-microorganisms
The origin of life required two processes that dominated:
(1) the generation of a proton gradient and
(2) linking this gradient to ATP production in part and in part to uptake of essential chemicals and rejection of others. The generation of a proton gradient required especially appropriate amounts of iron (Fe2+), levels for electron transfer and the ATP production depended on controlling H+, Mg2+ and phosphate in the cytoplasm. 8
Iron serves essential functions in both prokaryotes and eukaryotes, and cells have highly specialized mechanisms for acquiring and handling this metal.
2
Organisms use a variety of transition metals as catalytic centers in proteins, including iron, copper, manganese, and zinc. Iron is well suited to redox reactions due to its capability to act as both an electron donor and acceptor. In eukaryotic cells, iron is a cofactor for a wide variety of metalloproteins involved in energy metabolism, oxygen binding, DNA biosynthesis and repair, synthesis of biopolymers, cofactors, and vitamins, drug metabolism, antioxidant function, and many others. Because iron is so important for survival, organisms utilize several techniques to optimize uptake and storage to ensure maintenance of sufficient levels for cellular requirements. However, the redox properties of iron also make it extremely toxic if cells have excessive amounts. Free iron can catalyze the formation of reactive oxygen species such as the hydroxyl radical, which in turn can damage proteins, lipids, membranes, and DNA. Cells must maintain a delicate balance between iron deficiency and iron overload that involves coordinated control at the transcriptional, post-transcriptional, and post-translational levels to help fine tune iron utilization and iron trafficking.  
4
Question: Had this coordination not have to be fully setup right when cells first became alive ?
Iron
6
Iron (Fe) is the most abundant element in the Earth and the fourth most abundant element in the crust. Iron encompasses roughly 5 percent by mass of today's crust. Due to the abundance of iron and its role in biological systems, the transition and mineralogical stages of iron have played a key role in Earth surface systems. Iron played larger role in the geological past in marine geochemistry, as evidenced by the deposits of Precambrian iron-rich sediments. The redox transformation of Fe(II) to Fe(III), or vice versa, plays a big role in a number of biological and element cycling processes. The reduction of Fe(III) is seen to oxidize sulfur (from H2S to SO4-2), which is a central process in marine sediments. Many of the first metalloproteins consisted of iron-sulphur complexes formed during photosynthesis. Iron is the main redox metal in biological systems. In proteins, it is found in a variety of sites and cofactors, including, for instance, haem groups, Fe–O–Fe sites, and iron–sulfur clusters. The prevalence of iron is apparently due to the large availability of Fe(II) in the initial evolution of living organisms, before the rise photosynthesis and of atmospheric oxygen levels which resulted in the precipitation of iron in the environment as Fe(OH)3. Iron also has flexible redox properties because such properties are sensitive to ligand coordination, including geometry. Iron can be also used in enzymes due to its Lewis acid properties an example of this is that of nitrile hydratase. Iron is frequently found in mononuclear sites in the reduced Fe(II) form, and functions in dioxygen activation, this function is used as a major mechanism adopted by living organisms to avoid the kinetic barrier hindering the transformation of organic compounds by O2. Iron can be taken up selectively as ferredoxins, Fe-O-Fe (hemerythrin and ribonucleotide reductase), Fe (many oxidases), apart from iron porphyrin. Variation in the related proteins with any one of these chemical forms of iron has produced a wide range of enzymes. It is important to understand that all these arrangements are modified to function both in the sense of reactivity and its positioning of the protein in the cell. In many cases the iron can have many redox and spin states and, it can be held in many stereochemistries.
Eukaryotic cells contain hundreds of proteins that require iron cofactors for activity.
3
These iron enzymes are located in essentially every subcellular compartment; thus, iron cofactors must travel to every compartment in the cell. Iron cofactors exist in three basic forms: Heme, iron–sulfur clusters, and simple iron ions (also called non-heme iron). Emerging evidence suggests that specific systems exist for the distribution of iron cofactors within the cell. These systems include membrane transporters, protein chaperones, specialized carriers, and small molecules.
One of the most important concepts to emerge from the field of eukaryotic cell biology is that the contents of the cell are highly organized and the movement of organelles and macromolecules within the cell does not occur through simple diffusion. Movement is highly regulated through packaging and assembly of complexes and through directed transport via components of the cytoskeleton. Cells express hundreds, perhaps thousands of proteins that require bound metal cofactors for activity and stability.  Iron and zinc are the most abundant metals in cells, followed by copper and manganese, and, to a lesser extent, cobalt, nickel, and molybdenum. Thus, it is not surprising to discover the existence of intracellular systems for the distribution of metals and metal cofactors. Why do cells need these metal delivery systems? It is because the cell faces several obstacles in achieving the two major goals of metal cofactor delivery, which are incorporation of the native cofactor and exclusion of non-native cofactors.
The sulfur, oxygen, and nitrogen ligands that coordinate metals in enzymes will frequently bind non-native cofactors with affinities equal to or greater than those of the native cofactor. A second obstacle is that redox-active metals, such as iron, copper, and manganese can engage in Fenton-type chemistry in the presence of oxygen and produce potentially damaging reactive oxygen species. Thus, cells must tightly regulate the uptake, storage, and distribution of metal ion species. A third obstacle is that zinc and copper ions exhibit the highest affinity for transition metal-binding sites and would occupy iron and manganese sites if the metals were present in freely exchangeable pools of similar concentrations.
Consequently, cells maintain pools of zinc and copper at exceedingly low levels. This is accomplished through tightly regulated uptake and efflux and through the expression of metal-binding proteins, such as  
metallothioneins
, that effectively sequester pools of zinc and copper. Iron, however, appears to be managed differently.
Iron Bioavailability
4
Although iron is one of the most abundant elements on Earth, the environment is usually oxygenated, non-acidic, and aqueous. Under these conditions, extracellular iron is predominantly found in the poorly soluble ferric (Fe3+) state. One way that organisms such as yeast improve iron bioavailability is by acidifying the local environment.  
By lowering the pH of the surrounding environment, organisms facilitate solubilization and uptake of iron. ATP-driven proton transporters move H+ ions from the cytosol across the plasma membrane to control the pH at the cell surface.Question: Had this system not have to emerge fully setup right from the beginning in order to facilitate and make Iron uptake into the cell even possible ?

Uptake of Iron by micro-organisms like Bacteria and fungi
Many microorganisms, including some fungi, also secrete low molecular weight compounds known as
siderophores
into their surroundings, which form high-affinity (~10−33 M) complexes with ferric iron to make it bioavailable for uptake. Transporters on the cell surface then recapture the Fe3+-siderophores complexes. Two recent reports suggest that mammalian cells may also synthesize their own siderophores. Many microorganisms, including some fungi, also secrete low molecular weight compounds known as siderophores into their surroundings, which form high-affinity (~10−33 M) complexes with ferric iron to make it bioavailable for uptake. Transporters on the cell surface then recapture the Fe3+-siderophores complexes.
Siderophore biosynthesis
The mechanisms of siderophore biosynthesis  involves a series of elongating acyl-S-enzyme intermediates on multimodular protein assembly lines:
nonribosomal peptide synthetases (NRPS)
5
Biological chemistry: Enzymes line up for assembly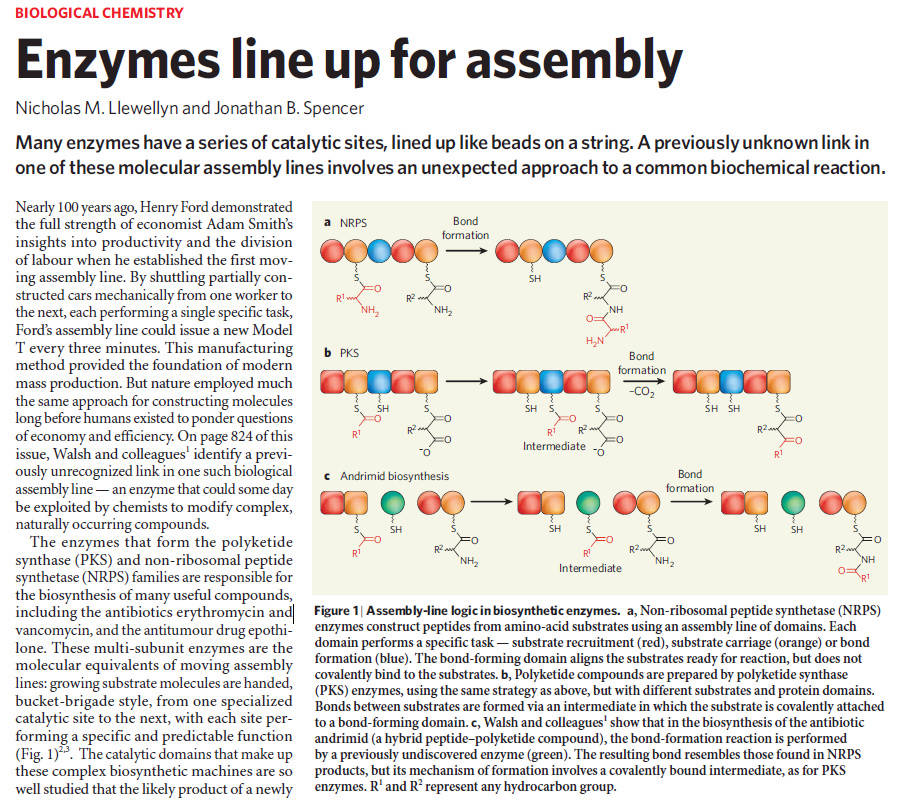 Nearly 100 years ago, Henry Ford demonstrated the full strength of economist Adam Smith's insights into productivity and the division of labour when he established the first moving assembly line. By shuttling partially constructed cars mechanically from one worker to the next, each performing a single specific task, Ford's assembly line could issue a new Model T every three minutes. This manufacturing method provided the foundation of modern mass production. But
nature employed much the same approach for constructing molecules long before humans existed to ponder questions of economy and efficiency.
On page 824 of this issue, Walsh and colleagues1 identify a previously unrecognized link in one such biological assembly line — an enzyme that could some day be exploited by chemists to modify complex, naturally occurring compounds. The enzymes that form the polyketide synthase (PKS) and non-ribosomal peptide synthetase (NRPS) families are responsible for the biosynthesis of many useful compounds, including the antibiotics erythromycin and vancomycin, and the antitumour drug epothilone.
These multi-subunit enzymes are the molecular equivalents of moving assembly lines: growing substrate molecules are handed, bucket-brigade style, from one specialized catalytic site to the next, with each site performing a specific and predictable function
(Fig. 1). The PKS assembly line starts by recruiting The PKS assembly line starts by recruiting small building-blocks (such as acetate and propionate molecules, which contain 'acyl' chemical groups) onto carrier proteins. The building-blocks are then bonded together in reactions catalysed by a 'ketosynthase' region of the PKS. The resulting substrate may then be chemically tailored by various other enzyme domains, before being passed on to another ketosynthase for a further round of extension and modification. The cycle is repeated until the finished molecule is finally offloaded. The various catalytic domains may exist as discrete enzymes (as in type II PKS), or be connected end to end, like beads on a string (as in type I PKS), but in both cases the biosynthetic strategy remains the same.
The NRPS cycle is very similar to that of PKS enzymes, except that it uses amino acids as building-blocks.
Thus, amino acids become bound to peptidyl carrier proteins (PCPs); PCP-bound amino acids are joined together with amide bonds to form peptides, in catalytic sites known as condensation domains; tailoring regions may then modify the newly formed peptide before passing it along for further cycles of extension and tailoring; and finally, the finished product is cleaved from the enzyme. The PKS and NRPS enzymes each produce very different products,
but the logic they use
is strikingly similar — so similar, in fact, that they can easily cooperate to construct hybrid PKS–NRPS products such as epothilone. 
Atlas of nonribosomal peptide and polyketide biosynthetic pathways reveals common occurrence of nonmodular enzymes
This study demonstrates the widespread distribution of nonribosomal peptide synthetase and modular polyketide synthase biosynthetic pathways across the three domains of life, by cataloging a total of 3,339 gene clusters from 2,699 genomes. Our analysis suggests that noncanonical nonmodular biosynthetic enzymes are common in bacteria. Proteobacteria, Actinobacteria, Firmicutes, and Cyanobacteria in bacteria and Ascomycota in fungi contained higher number of these gene clusters and are likely to produce a wide variety of nonribosomal peptide and polyketide types of natural products.
Nonribosomal peptide synthesis versus ribosomal peptide/protein synthesis
The activation of the amino acid substrate is similar in both biosynthetic systems, but the enzymes involved, aa-tRNA synthetase in ribosomal and adenylation domains in nonribosomal synthesis, are structurally and catalytically unrelated. The activated amino acid is loaded to the transport unit, tRNA in ribosomal and the thiolation domain (peptidyl carrier protein, PCP) in nonribosomal synthesis. Both the ribosomal and nonribosomal machinery have properties that make them well-suited for their respective functions. Because of the need for precision in primary metabolism, ribosomal peptide synthesis involves several proofreading mechanisms that are
absent from the nonribosomal system. However, ribosomal peptide synthesis is normally restricted to a set of 20 amino acids as building blocks for proteins, whereas several hundred substrates of NRPSs are known to date. Thus, structural diversity is a predominant feature of nonribosomally produced peptides.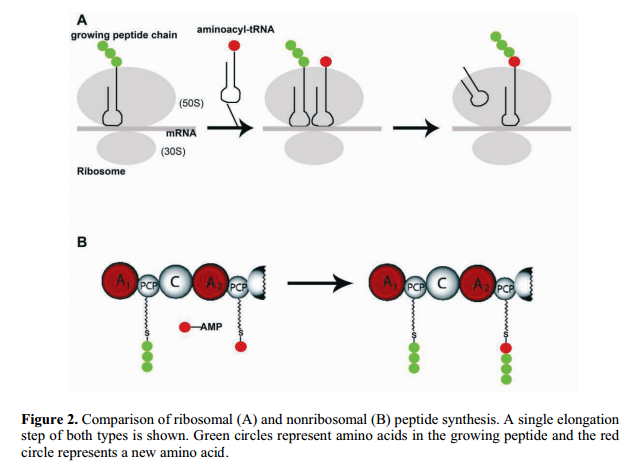 Modular structure of nonribosomal peptide synthetases
In ribosomal and nonribosomal peptide synthesis, the activation of amino acids is followed by peptide bond formation, and the steps are repeated until the final length of the peptide is attained. In NRPSs this is achieved through a modular structure, with one module for each amino acid to be incorporated into the peptide.  The minimal module required for the addition of an amino acid to the growing peptide (Figure 3) consists of a condensation (C), an adenylation (A) and a thiolation (T) domain. The A-domain recognizes the amino acid substrate and activates it, first through the formation of an aminoacyl adenylate and then via covalent binding of the activated amino acid as a thioester to the phosphopantetheine group of the T-domain. The C-domain catalyses the formation of a peptide bond between the aminoacyl or peptidyl moiety and the free amino group of the downstream aminoacyl moiety. In addition to these three core domains, modules can contain several alternative domains that introduce a modification of (epimerization domain), N-methylation (N-methyltransferase -amino group, or the heterocyclization of Ser, Thr or Cys residues (heterocyclization domain). The last step in nonribosomal peptide biosynthesis involves release of the assembled peptide from the NRPS into solution. In the majority of cases, this is accomplished by an extra domain located at the C-terminus of the last module of the NRPS, which can be a thioesterase (TE) domain, a variant of a C domain or a reductase domain. In silico recognition of individual domains on the protein level can be achieved using domain-specific highly conserved sequence motifs. In many NRPS gene clusters the order and number of modules is co-linear with the amino acid sequence and length of the peptide. Consequently, it is possible by analysing the sequence of NRPS genes to elucidate the composition of the peptide, provided that the substrate specificities of the adenylation domains are known or can be deduced.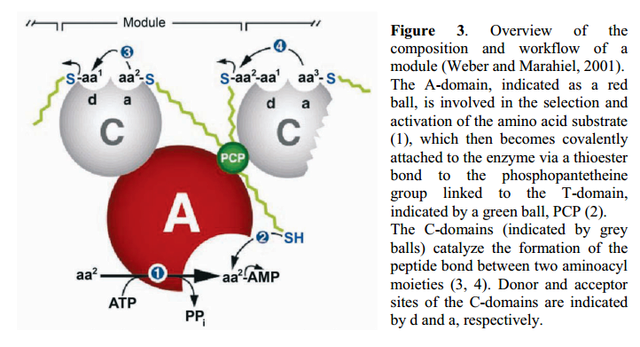 Substrate recognition by nonribosomal peptide synthetases
A substantial variety of siderophore structures are produced from similar NRPS assembly lines. An NRPS assembly line is comprised of autonomously folding domains, bundled together into functional modules to carry out steps of monomer selection and activation, chain elongation, and then chain termination. Each NRPS assembly line needs to be organized to carry out four kinds of catalytic operations. First, each of the PCP domains must be converted from the apo form to the holo form, bearing the phosphopantetheinyl arm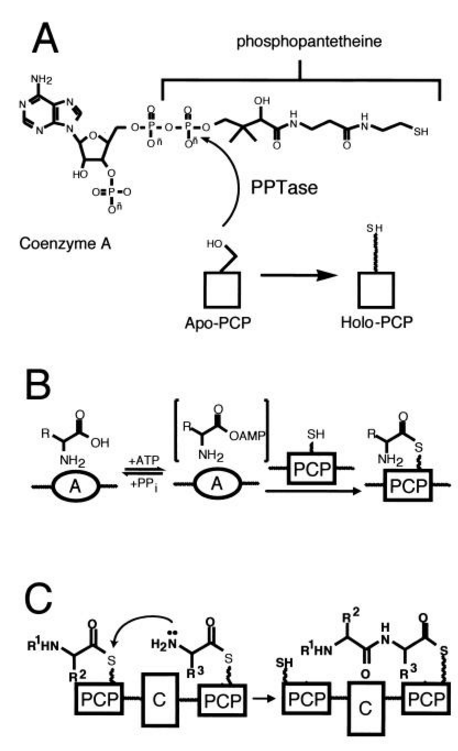 Figure 3. Initiation of siderophore synthesis.
(A) PPTase priming equation on apo PCP;
(B) two-step A domain equation;
(C) C domain equation.
Humans also use an acidic environment to facilitate uptake of dietary iron. Uptake mainly occurs though enterocytes in the duodenum, which receives the acidic contents of the stomach. Iron can then be absorbed for storage in intestinal cells or delivery to other cells
In mammals, iron enters the cell through a variety of transport systems, including the
endosomal transporter DMT1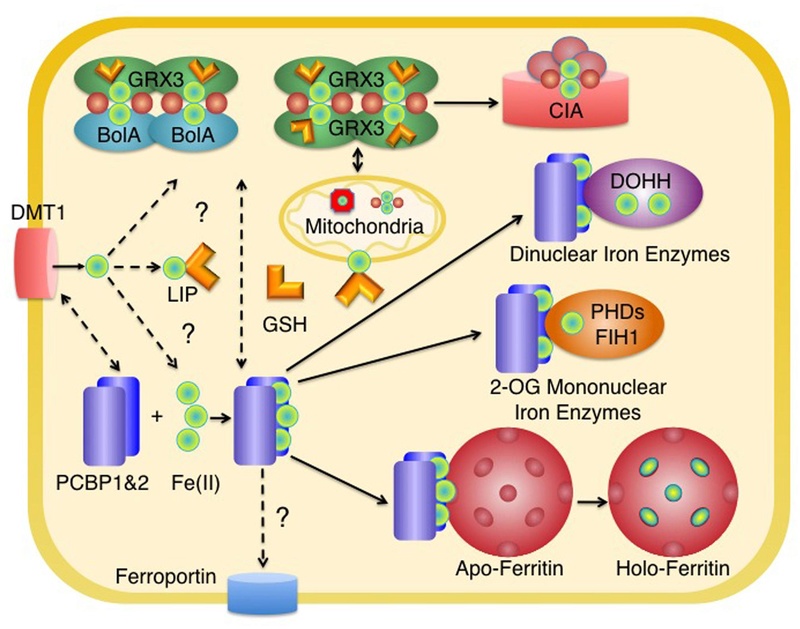 Distribution of iron in the cytosol of mammalian cells. Iron enters the cytosolic labile iron pool (LIP) as Fe(II) and may be coordinated by reduced glutathione (GSH). Most of the iron entering the LIP is delivered to mitochondria for the synthesis of heme and Fe–S clusters. In the cytosol, homodimers of Grx3 or heterooligomers of Grx3 and BolA2 coordinate [2Fe-2S] clusters with the help of GSH. These clusters may be used for the metallation of cytosolic Fe-S enzymes (via the cytosolic iron–sulfur cluster assembly machinery, CIA) and may have a role in mitochondrial iron delivery in erythroid tissues. PCBP1 and PCBP2 bind iron in the cytosol and deliver it to target non-heme iron enzymes, such as ferritin, 2-oxoglutarate-dependent dioxygenases (mononuclear iron enzymes such as PHD2 or FiH1), and oxo- or peroxo-bridged diiron oxygenases (dinuclear iron enzymes such as DOHH). The source of iron for PCBPs is not known, but could include components of the LIP coordinated by GSH or iron coordinated by Grx3. PCBP2 may directly acquire iron from transporters such as DMT1 and may also deliver iron to ferroportin for efflux. Some intracellular organelles have been omitted for clarity. Red spheres indicate inorganic sulfide as part of an Fe–S cluster.
Composition of the Cytosolic Labile Iron Pool
From a conceptual standpoint, the cytosol must contain a kinetically labile, metabolically accessible pool of iron so that iron can be distributed to its various sites of utilization, transport, or storage. The iron initially entering the cytosol is also in the reduced state.
Proteins Involved in Cytosolic Iron Distribution: Monothiol Glutaredoxins
Candidates for physiologic Fe(II) ligands include citrate, cysteine, and
reduced glutathione (GSH)
. Analysis of these potential ligands in vitro suggests that Fe–GSH complexes are likely the only species that forms at significant levels in cells, largely because GSH is present at relatively high (2–10 mM) levels in the cytosol and exhibits moderate affinity (Kd∼8 μM) for Fe(II).  Fe–GSH complexes  have a critical role in maintaining iron distribution and homeostasis in eukaryotic cells.
Proteins Involved in Cytosolic Iron Distribution: Monothiol Glutaredoxins
In addition to its role as a ligand in the cytosolic LIP, GSH coordinates iron as part of the Fe–S carrier complex formed by cytosolic monothiol glutaredoxins (reviewed in
Glutaredoxins: roles in iron homeostasis
). The glutaredoxins are a ubiquitous class of enzyme with a thioredoxin fold and are generally thought to function as thiol-disulfide oxidoreductases with roles in
Glutathione conjugation
. 
Proteins Involved in Cytosolic Iron Distribution: PCBPs
The term metallochaperone has been used to describe proteins that directly deliver metals to target enzymes or transporters through metal-mediated protein–protein interactions. Iron chaperone activity has been demonstrated for the poly C binding protein (PCBP) family of proteins. PCBP1 was initially identified as an iron chaperone for ferritin, the ubiquitous iron storage protein. Ferritin, composed of 24 subunits of H- and L-isoforms, functions as a cellular repository of surplus iron by accommodating up to 4500 iron atoms within its spherical core. Delivery of iron atoms into the hollow sphere of ferritin occurs via the hydrophilic channels formed by the carboxylate side chains along the threefold symmetry axes in the heteropolymer. Initially, ferritin accrues iron atoms in the ferrous form, which are then oxidized to ferric iron by the ferroxidase center of H-ferritin, located in the interior of the ferritin cavity. Even though the regulatory mechanisms of this gene product have been extensively studied under various physiological conditions, the cytosolic trafficking system directing iron to the metalloprotein had been elusive until the recent discovery of the iron chaperone activity of PCBP1.
Iron: a Biologically Important, but Dangerous, Metal
For almost all microorganisms iron is an essential element involved in many important reactions involving, among others, [Fe-S] proteins and haem in cytochromes. Under normal environmental conditions, iron presents two oxidation states, Fe2 and Fe3, that are particularly suitable in oxido-reduction reactions. While Fe2 is the dominant form under anaerobic conditions, Fe3  is the major form in oxygenated environments. This presents a problem for microorganisms with an aerobic lifestyle because of the extremely low solubility of the ferric iron.  
Uptake of Ferrous Iron
7
Siderophores are strong iron chelators, secreted by many organisms, including bacteria, fungi, yeast and monocotyledonous plants to solubilize, bind and make available iron in the environment. Generally, organisms synthesize and secrete these low molecular weight chelators to bind Fe(III) and then transport the ferri-siderophore complex through the cell membrane. Unlike other organisms,
Gram-negative bacteria possess an outer membrane (OM) as well as a cytoplasmic membrane (CM), which presents an additional barrier to the exchange of solutes. As ferri-siderophores are too large to passively diffuse through the OM porins, they must be actively transported across the membrane by specific receptor proteins
 The OM receptors/transporters bind the ferri-siderophore complexes and directly interact with the energizing
TonB-ExbB-ExbD complex
in the inner membrane to allow the iron complex to be transported into the periplasmic space. This transport process involves three components: 
(i) OM localized transporters; 
(ii) a CM-localized TonB-ExbB-ExbD complex, and 
(iii) ion electrochemical potential
Over the past three decades, many aspects of this TonB-ExbB-ExbD-dependent transport system have been revealed. The crystal structures of several OM transporters and their complexes with TonB are now known, the signal transduction of OM transporters by interaction with TonB has been elucidated  and the rotational mechanism of TonB motion has been reported . However, with regard to the substrates of the transport system, we are probably only seeing the 'tip of the iceberg'. Originally, iron complexes and vitamin B12 were thought to be the main substrates of the TonB-ExbB-ExbD system, but more and more new substrates have been found to be transported, including citrate, transferrin, hemoproteins, heme, phages, colicins, maltodextrins, nickel chelators and sucrose.
TonB-dependent transporters: regulation, structure, and function
TonB-dependent transporters (TBDTs) are bacterial outer membrane proteins that bind and transport ferric chelates called siderophores, as well as vitamin B12, nickel complexes, and carbohydrates. The transport process requires energy in the form of protonmotive force and a complex of three inner membrane proteins, TonB-ExbB-ExbD, to transduce this energy to the outer membrane. The siderophore substrates range in complexity from simple small molecules such as citrate to large proteins like serum transferrin and haemoglobin. Because
iron uptake is vital for almost all bacteria
, expression of TBDTs is regulated in a number of ways that include metal-dependent regulators, σ/anti-σ factor systems, small RNAs, and even a riboswitch. In recent years many new structures of TBDTs have been solved in various states, resulting in a more complete picture of siderophore selectivity and binding, signal transduction across the outer membrane, and interaction with TonB-ExbB-ExbD. However, the transport mechanism is still unclear. In this review, we summarize recent progress in understanding regulation, structure and function in TBDTs and questions remaining to be answered.
Transport into Gram-negative organisms is initiated by passage of the transported species across the outer membrane and into the periplasmic space prior to inner membrane translocation. The uptake of iron is particularly important for bacterial growth and synthesis of outer membrane iron transporters (called TonB-dependent transporters, TBDTs) is therefore regulated in a variety of ways. While iron complexes constitute the majority of substrates for TBDTs, vitamin B12, nickel chelates, and carbohydrates are also transported by this mechanism. These transporters show high affinity and specificity for metal chelates called siderophores and require energy derived from the protonmotive force across the inner membrane to transport them. To tap this energy source, TBDTs must interact with an inner membrane protein complex consisting of TonB, ExbB, and ExbD.
The first crystal structures of two Escherichia coli TonB-dependent transporters, ferrichrome transporter (FhuA) and ferric enterobactin transporter (FepA), showed that TBDTs use a 22-stranded β-barrel to span the outer membrane with an unanticipated 'plug' domain folded into the barrel interior. The plug domain functions to bind a specific metal chelate at the extracellular side of the membrane and to interact with TonB-ExbB-ExbD at the periplasmic side of the outer membrane. In these 'ground state' structures, the
plug domain completely occludes the barrel pore, revealing an unexpected complexity for siderophore transport.
There has been significant recent progress in structure determination of TBDTs, with a total of 45 structures solved to date, representing 12 unique transporters. In this review, we summarize new data on the complex regulation of TBDTs, structural similarities and differences, and new functional data pertaining to the transport mechanism. We will focus on E. coli, but include information on other Gram negative bacteria where appropriate.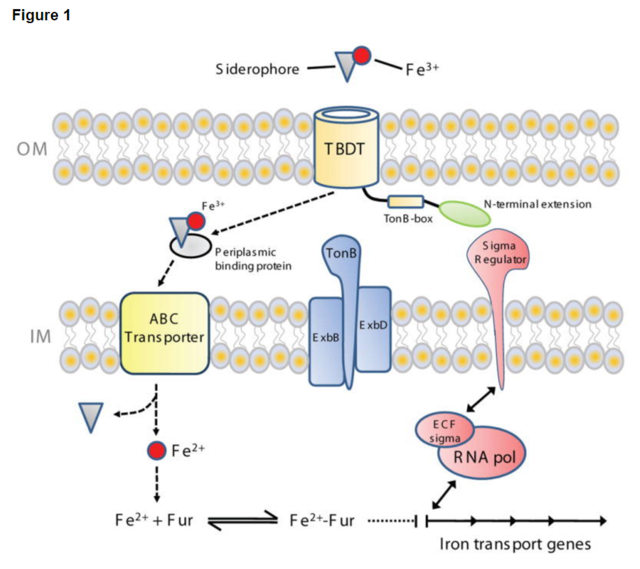 Transport and regulation of siderophores
Transport of ferric siderophores across the outer membrane derives energy from the inner membrane protonmotive force. This requires an energy-transducing TonB complex in the inner membrane (blue), consisting of TonB, ExbB and ExbD proteins. TonB interacts with outer membrane transporters (TBDT) at the TonB-box motif. Transport of ferric siderophores across the inner membrane requires a periplasmic binding protein and an ABC transporter. Once the ferric siderophore enters the cytoplasm, ferric ion (Fe3+) is reduced to ferrous ion (Fe2+), which is destined for storage or incorporation into enzymes. Excess Fe2+ (which could induce the formation of radicals harmful to the cell) binds to the repressor protein Fur, which in turn binds target promoters (Pfur) and inhibits transcription of siderophore transport genes. Some TBDTs, such as E. coli FecA are additionally regulated by σ/anti-σ factor systems. In addition to transporting diferric dicitrate, FecA regulates the expression of fecABCDE transport genes initiated by the binding of ferric citrate to FecA. This involves the N-terminal extension of FecA (green), the inner membrane regulator FecR (σ regulator, pink), and the cytoplasmic sigma factor FecI (ECF σ factor, pink). Both transport and induction require energy transduction from the TonB-ExbB-ExbD complex in the inner membrane.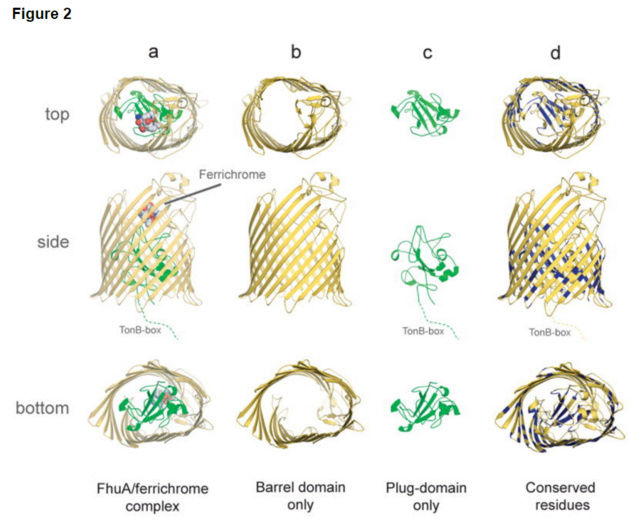 The structure of the (prototype) TBDT FhuA
TBDTs have an N-terminal plug domain that sits inside a C-terminal 22-stranded β-barrel domain. The conserved TonB box is found near the N-terminus of the plug domain facing the periplasm and is generally thought to remain sequestered inside the β-barrel domain in the absence of ligand. Upon binding ligand, a conformational change leads to exposure of the TonB box and subsequent interaction with TonB and siderophore transport. Panel a represents the FhuA-ferrichrome crystal structure (1BY5) with FhuA shown in ribbon and ferrichrome in spacefill model, panel b represents only the beta-barrel domain, panel c represents only the plug domain, and panel d shows the FhuA apo structure (1BY3) with those residues with at least 50% conservation highlighted in blue. Top view represents the extracellular view, side view represents the membrane view, and bottom represents the periplasmic view. The TonB box was found disordered in both structures and is represented by dashed lines.
Structure and Function of TBDTs
An analysis of the original four TBDTs showed that all of them have the same domain architecture: a 22-stranded transmembrane β-barrel encloses a globular plug domain (Figure 2). Ligand binding sites are formed from residues on the extracellular side of the plug domain, as well as from residues on the walls and extracellular loops of the β-barrel. The TonB box is found at the N-terminus of the plug domain, and in some structures protrudes into the periplasm. In others, the TonB box is tucked up into the plug domain within the barrel or is disordered and not visible in the structures. A structure-based sequence alignment revealed conserved motifs in the plug and barrel which are close to one another and interact. Finally, an analysis of water molecules located at the plug-barrel interface revealed that the plug is highly solvated, resembling a transient protein complex and suggesting conformational change and/or movement of the plug within the barrel during transport. In the following sections, we will outline some of the significant structural and functional studies done with TBDTs in recent years.
Structural insight into the role of the Ton complex in energy transduction
Energy-coupled transport and signal transduction through the Gram-negative outer membrane via TonB-ExbB-ExbD-dependent receptor proteins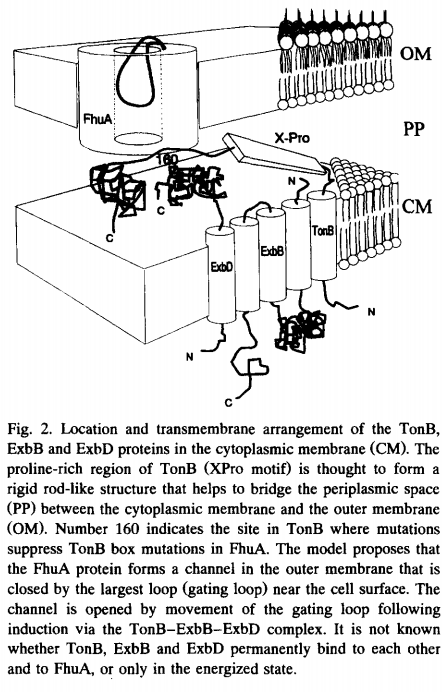 The FeoABC System
The ferrous iron Fe2 is highly soluble compared to the oxidized Fe3 and is stable under anaerobic conditions and at low pH.5 Soluble Fe2 is transported into cells via a transport system termed Feo, composed of a
permease FeoB
and the proteins
FeoA and FeoC
. This system is probably ancient since the primitive atmosphere of Earth was anoxic, resulting in the high abundance of this form of iron.  Feo genes are present in more than 1000 bacterial genomes.     The major component is the FeoB permease, which is a polytopic cytoplasmic membrane protein with eight transmembrane domains in the majority of cases (Figure 11.1B).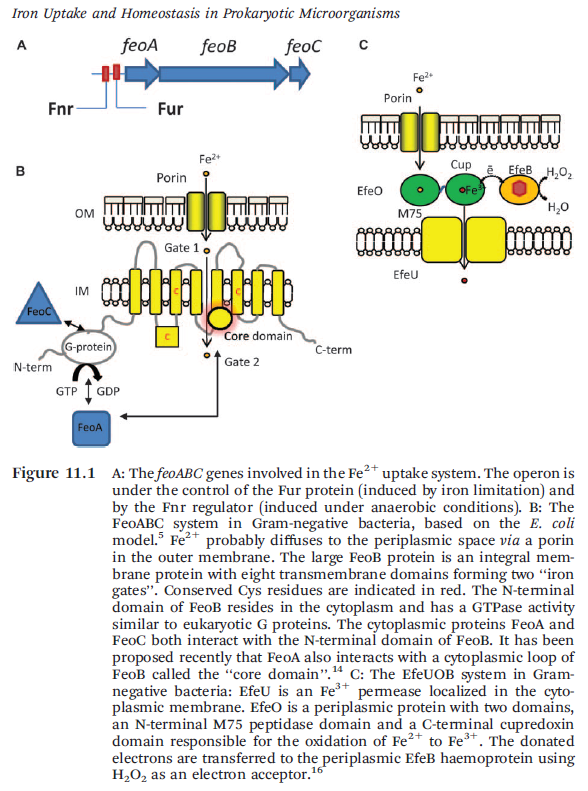 The protein has an N-terminal domain in the cytoplasm with a GTPase function, which is typical of eukaryotic G-proteins such as Ras.  It possesses low affinity for GTP coupled with a low hydrolysis rate but the release rate of GDP is fast. The N-terminal FeoB domain forms a trimeric structure where the G-domain covers amino acids 1–170 while the second part of the FeoB N-domain, termed the S-domain, could act as a gate for Fe2+. FeoA has an SH3 domain typical of GTPase activating proteins that interact with eukaryotic G-proteins. The C-terminal membrane domain of FeoB has two ''gates'' in opposite orientations, similar to those in the iron permease of yeast, Ftr1p.12 There are also several conserved cysteine residues in transmembrane domains 3 and 6 and in the first cytoplasmic loop (Figure 11.1B). It has been proposed that the conserved Cys residues in the gates 1 and 2 transmembrane domains serve as ligands for Fe2+.
The small FeoC protein is predicted to contain an Fe-S cluster and it presents a LysR-regulator-like winged-helix motif at its N-terminus, suggesting that it could be involved in the regulation of the transcription of the feo operon. Recently, it was demonstrated that FeoC also interacts with the N-terminal cytoplasmic domain of FeoB, suggesting a role in the modulation of Fe2 uptake. Although the feoC gene is found only in g-Proteobacteria, other bacteria encode other small Fe-S cluster proteins in their feo operons. A role for the FeoA protein has been proposed recently based on the fact that uptake of Fe21 is reduced in a feoA mutant in which expression of the FeoB protein is unaffected. The same study demonstrated an interaction between FeoA and FeoB via a bacterial two-hybrid system. Recently, the structure of FeoA has been solved and the results do not support the hypothesis that FeoA assists FeoB in GTP hydrolysis. Rather they suggest a direct interaction between FeoA and the so-called ''core'' membrane domain of FeoB.
The advent of oxygen was a catastrophic event for most living organisms, and can be considered to be the first general irreversible pollution of the earth. The oxidation of iron resulted in the loss of its bioavailability as Fe(II) was replaced by insoluble Fe(III) 9 A new iron biochemistry became possible after the advent of oxygen, with the development of chelators of Fe(III), which rendered iron once again accessible, and with the control of the potential toxicity of iron by its storage in a water soluble, non-toxic, bio-available storage protein (ferritin). Biology also discovered that whereas enzymes involved in anaerobic metabolism were designed to operate in the lower portion of the redox spectrum (attaining values of close to þ0.6 V for iron itself), the arrival of dioxygen created the need for a new redox active metal which could attain higher redox potentials
This raises the question when Siderophores emerged. Siderophores are amongst the strongest soluble Fe3+ binding agents known. They had no business if FeIII was not existent prior the great oxygenation event.
1. Binding, Transport and Storage of Metal Ions in Biological Cells, page 329
2.
https://www.ncbi.nlm.nih.gov/pubmed/8592731
3.
http://journal.frontiersin.org/article/10.3389/fphar.2014.00173/full
4.
https://www.ncbi.nlm.nih.gov/pmc/articles/PMC3924584/
5.
https://www.ncbi.nlm.nih.gov/pmc/articles/PMC120789/
6.
https://en.wikipedia.org/wiki/Evolution_of_metal_ions_in_biological_systems
7.
https://www.ncbi.nlm.nih.gov/pmc/articles/PMC4303624/
8. Calcium homestasis, page 9
9. Practical Approaches to Biological Inorganic Chemistry, page 16


Last edited by Admin on Sun Mar 05, 2017 12:36 pm; edited 10 times in total